Let us not forget 2011... A year that can be described by thousands of words: scandalous, shocking, lockout, wild, epic... I would describe this year with one word:
unpredictable.
2011 in sports always left us questioning and guessing about the next thing that was going to happen; what was going to happen next? There are a few good and bad things this year has for us to learn from: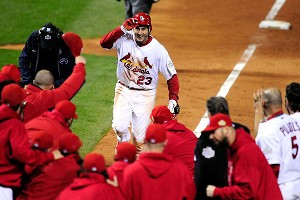 NFL:
The Green Bay Packers returned to prominence and Aaron Rodgers proved Lambeau doesn't need Brett Favre to become Titletown once again. During the offseason, the players and owners couldn't come to an agreement on a new deal, but the Lockout ended just in time for a full NFL season. Us NFL fans were treated with 4th quarter comebacks and countless stories from the media because of an interesting 2nd year QB with a funky wind-up: Tebow. Like it or not, this kid is something special and he's left his footprint on the great game of football. 2011 was also the year of the passer; Tom Brady, Aaron Rodgers, and Drew Brees, need I say more? It'll be exciting to see what happens in the playoffs. One Word:
Unpredictable
MLB:
A crazy year. D-backs make the playoffs, Boston and Atlanta miss out while St. Louis sneaks in. St. Louis upsets the dream team of Philadelphia, but Texas forces them to one out from a World Series. America's past time still has some punch, though and St. Louis used a couple of miracles to win game 6 and then win game 7.
Unpredictable
NBA:
The Mavericks won their first NBA title by taking down giants: Kobe and the Lakers, and LeBron and the Heat. For an underachieving franchise to win their first title by taking out heavily favored opponents in a league that has lacked suspense was great for the sport, however the lockout was not good for the sport. Why argue over money when a sport can be revived?
Unpredictable
NHL:
A sport with few fans needs a lot to make news, but the 2011 season for hockey had many treasures and lessons to learn from. Vancouver leapt out to a Stanley Cup lead, but in Boston, Aaron Rome nailed Nate Horton for a Stanley Cup ban. The Bruins awoke afterwards and took the series from a stunned Vancouver team. The shock led to arguably the saddest moment in Vancouver history: the riots.
Unpredictable
NCAAF:
A year of scandal. Penn State saw an awful end of an era as Joe Paterno himself couldn't escape the scandals in "Happy Valley". However, college football always holds surprises. The many upsets and RG3 winning the Heisman instead of Andrew Luck are just a few stories from a rich year.
Unpredictable
NCAAB:
A year full of talent from Kemba Walker to Derrick Williams. VCU and Butler making their presence felt in the basketball world as they both made the Final Four. Many talented college freshman stayed in college rather than going to the NBA to create another
unpredictable
year.
What does 2012 hold in store for all of us? Will more QBs make their impact in the NFL? Will Bryce Harper emerge as baseball's top star? Will Miami falter in the playoffs once again? Who will win the Stanley Cup in an air-tight playoff race? LSU or Bama? What will happen in March? How will the Summer Olympics play out? Which country will win the Euro Cup? We won't know until we witness it. Welcome 2012.