Checking my phone this morning, I saw that the Washington State Mens' Basketball team was going to host the Oregon Ducks later in the afternoon. As a season ticket holder, it's my duty as a two-year Pullmanite to go to these games and root for the Crimson and Gray. However, I was not looking forward to spending two hours at Beasley Coliseum for a few reasons. Firstly, I was going to have to miss the first half of the Arizona Wildcats' Mens' Basketball game as they would take on Utah. Secondly, I knew the Cougs were going to lose by large margin. And lastly, going to these basketball games has become painful.
Perhaps my standards have been set a bit too high as I grew up in Tucson, AZ and have grown accustomed to successful basketball teams year in and year out. But then again, Pullman has had a few successful basketball teams as of late, coached by Tony Bennett and future NBA stars like Klay Thompson. However, why would they retain a coach who is 21-30 overall in the past two seasons and 5-21 in Pac 12 play in these past two seasons? Let's take a step back away from the poor basketball that has been on the court since I became involved here and look at what this team and program is capable of. The Pac 12 conference is
The Conference of Champions
; however, football has been on an upward trend while basketball has been placed on the back burner. While this conference does boast the number 1 ranked team in the nation, they only have one team ranked in the AP Top 25 (Arizona). WSU has been spending plenty of money on athletics in order to compete in the conference, giving Mike Leach a large contract, building a beautiful press box at Martin Stadium, and adding a large office building next to the stadium. But wait a second… That money is being spent on football and football alone. Why put your resources into the football team when they have to compete in the strongest conference in the nation? The team has vastly improved as of late which was nice to see, but a New Mexico Bowl berth is hardly something this program can boast about. It is a stepping stone and this team is on the rise, but don't you think it would be a shame to see the Cougs put together one of the best offensive teams in their history, only to miss out on a Pac 12 North title to the powerhouse that is Oregon, to the defensive force that is Stanford, or to the rival that is Washington?
Now where am I trying to get with this rant? The bottom line is that now is the time. Not in football necessarily, since the conference is so strong right now. Rather, the Cougs should focus on building their basketball program. As a matter of fact, they had been enjoying success, even under Bone, as they made it to the NIT Semifinals in 2011. The truth is that this Pac 12 university deserves a better coach for their mens' basketball program. With Beasley Coliseum, a decently sized basketball arena that can get quite loud with 11,671 fans, many players would be more than happy to play in front of such a crowd. Since Pullman is not unreasonably far from British Columbia or Seattle, there are quite a few quality basketball players who wouldn't mind playing as a Coug. However, they would mind if there team was a Pac 12 bottom dweller.
Ike Iroegbu
Que Johnson
This current roster is dealing with being a joke, and it's not all their fault. Sure, you can blame some of these players for not playing as well as they are capable of. However, you can also blame coach Ken Bone for not using the team correctly. For example, Royce Woolridge is not a point guard, he is a scorer. Running the point takes away his opportunities to score, which has greatly diminished his confidence. Instead, Bone should start Ike Iroegbu at the point so that the young freshman from Oak Hill Academy can get more playing time in order to cement himself and get comfortable in this role he'll have for the next four years. I also remember against Stanford, the Cougs had a small lead, but Bone inexplicably took out leading scorer Que Johnson, a redshirt freshman who was absolutely red hot, which took the Cougs out of the game as Stanford got on a big runs and never looked back. They shouldn't hold onto the ball for 30 seconds and then try to score with five seconds remaining. They should play faster with as many guards as possible along with forward DJ Shelton. The Cougs are not good enough to hold onto the ball and play possession basketball. This is exactly why they aren't winning: they aren't scoring points. And how do you score more points? You take more shots. The problem is Bone isn't running the team to their strengths but rather to their weaknesses.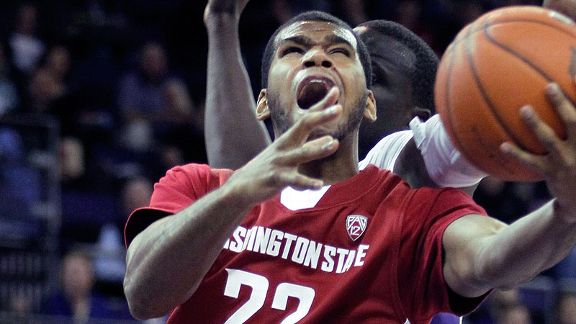 Royce Woolridge
So how do we approach this predicament? Well, the first part is simple: fire Ken Bone. WSU never should have trusted the former Portland State coach with their basketball program. What they should've done was hire a different coach coming from a small program in a more successful conference with consistent success, but also, more importantly, a coach who has tasted success in the postseason. Ken Bone was consistent at Portland State, building a respectable win-loss record; however, he was ousted in the first round of the NCAA Tournament twice in his last two seasons at PSU. One could argue that a coach who hasn't broken through with a smaller program could easily do so if he had the tools, and one could just as well argue that Bone found success by going far in the NIT. However, one of the more important aspects of coaching is recruiting. Bone is now working with his own players. He is working with players that should be tailored to his system, but the team is performing poorly as of these past two seasons. Last season, they only picked up four conference wins, two surprise wins coming from an LA school sweep. Four wins sounds poor, and it is, but it could've been a lot more. The Cougs were in most all of their games last season. They lost to #10 Gonzaga on a late layup, Washington by two possessions, at Arizona State by four, at USC by four, Oregon State by one, #23 Oregon by two, at Washington by four, and again against Washington in the Pac 12 tournament by two. You may find this as a stroke of bad luck; however, something doesn't add up. The Cougs only had one win that came down to the final moments as opposed to eight losses coming in the last minute. That is not bad luck, that is bad coaching. That is a poor utilization of your own players, players scouted and recruited specifically by the coach, only to come up short at the end of the game. I've heard countless times people exclaim at the end of a Cougs home loss saying, "Oh, we were so close" or, "We'll win next time." I am sick and tired of hearing that. How about we win those games. How about we get a coach who will come up on the winning end of these games.
So what can the Cougs do to stop the bleeding? I'm sorry, but if you are okay with a team that makes SportsCenter by only scoring seven points in a half or getting blown out at home during their "Gray Out" to Oregon by a score of 71-44, you don't appreciate the competitive nature of sports. I'd say this is a culture problem as of now. Hearing those fans who consistently say, "better luck next time" don't realize that there has been a losing culture already slowly settling into this program. It is a weed, a virus, a leach (no pun intended) that will make a program into a joke. WSU is not on the same trend as losing close games. Instead, they are losing only slightly at halftime, before getting blown out of the water in the second half. The Cougs need to make a statement in order to climb out of the bottom of the Pac 12. A statement unlike any other is firing the coach. Even though the Cougs have lost all hope for this season (which is a shame really), they should fire Bone right now as I type this article. Actually, they should have fired him when I was writing this title. Bone has a base salary of $850,000 and is under contract till 2015-2016. WSU would show guts and that they are serious about their basketball program with this firing. An interim coach could inspire some of these players to play better and stay with the program until better things come so that Ike Iroegbu and Que Johnson don't think about transferring away. Another positive about an early firing is that other small time coaches who are looking for that "stepping stone" program will take notice. There are many coaches that would love to spend some time at a Pac 12 program as they build there way up or coaches who are currently assisting but would like to take over the reigns, kind of like Tony Bennett.
Bottom line. Washington State needs to stop fooling around with their future. They are becoming a joke. They have talent. They lose games they shouldn't. They are in a conference where they can be
successful. They aren't making the effort they should to make this basketball program relevant. They have resources. They should make an effort. They should drop the Bone.
Drop the Bone.